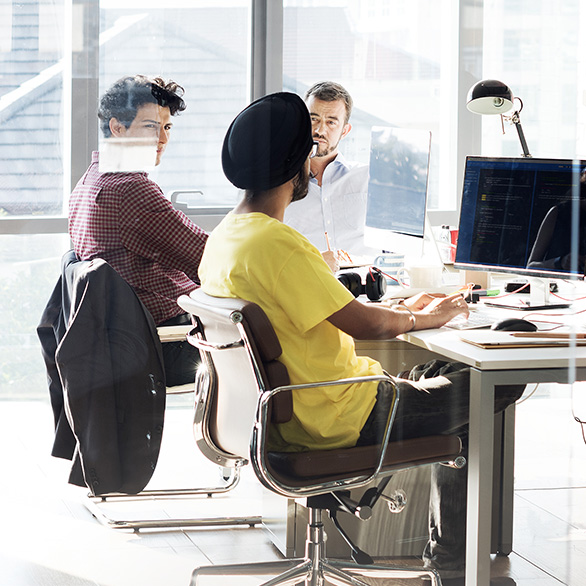 Marketing teams – plan. Digital teams – execute. Sales team – deliver. Well, where's communication and data? The screw up is irreversible. This is the current market problem and FrontFold aims at getting this absolutely right. Cross-team collaboration across functionalities not only gives us the undue advantage but also helps us move things much faster.
Our Vision is to grow businesses in the most cost effective approach through digital marketing.
Our projects are well structured in a way that provides clients with a detailed work-flow. This transparency has helped in creating systems in which all team members across functionalities can access all relevant information about the project at any point in time. We also help clients pick the right set of KPIs in order to measure and assess the progress over time. 
Apart from our in-house proprietary tools we also have access to the leading industry level tools to improve the output of the projects. Our teams put technology into the picture to avoid reinventing the wheel. All this combined with our centralised communication powers projects with minimum friction and reduced TATs.
So, do we think we are the only ones out there with all this? Well, certainly not! (being brutally honest)
Can we let you in on a secret? We admire quite a few agencies ourselves. They do certainly have some impressive work and even more impressive clientele! FrontFold is here to challenge them all. We are a small, tight-knit and cost effective engine with the horsepower of a Koenigsegg Regera. 
P.S: This also happens to our secret sauce.
Our team said, "give us the tools, and we will finish the job" and we did just that! Our engineers have been in the digital space for a combined 30+ years and after consulting over 200+ brands they have a good understanding of the market gaps and what really is expected. Our tools are meant to assist us in just that because we know if the only tool you have is a hammer, it's hard to eat spaghetti! While some tools help us in bringing in efficiencies, most are driven towards helping us put together data which otherwise is invisible to our naked eyes. 
AMPLiFY, SNiFFER, IGNiTE[BETA] & GRiP are the 4 power packed tools we are continuously working on.
Our Mission
Enable businesses with a data driven approach towards marketing problems.
With every wrong decision a marketer makes, there's a cascading effect associated with it. The problem can prove extremely costly as it moves further in the funnel. Having data by our side is more like giving us night vision goggles. We can see things that most of them fail to pick up. Our approach enables us to examine and organise reliable data with the goal of achieving targets better. We empower our teams to resolve problems by having the most data possible on their side before making any decision. This means that our approach towards marketing problems is more or less fool proof and the most ideal solution.
"Effectiveness without values is a tool without a purpose." – Edward de Bono