Unlock the Power of Backlinks: Your Ultimate Guide to SEO Success. Dive into the world of backlinks, from understanding the basics to mastering advanced strategies. Get ready to supercharge your website's rankings!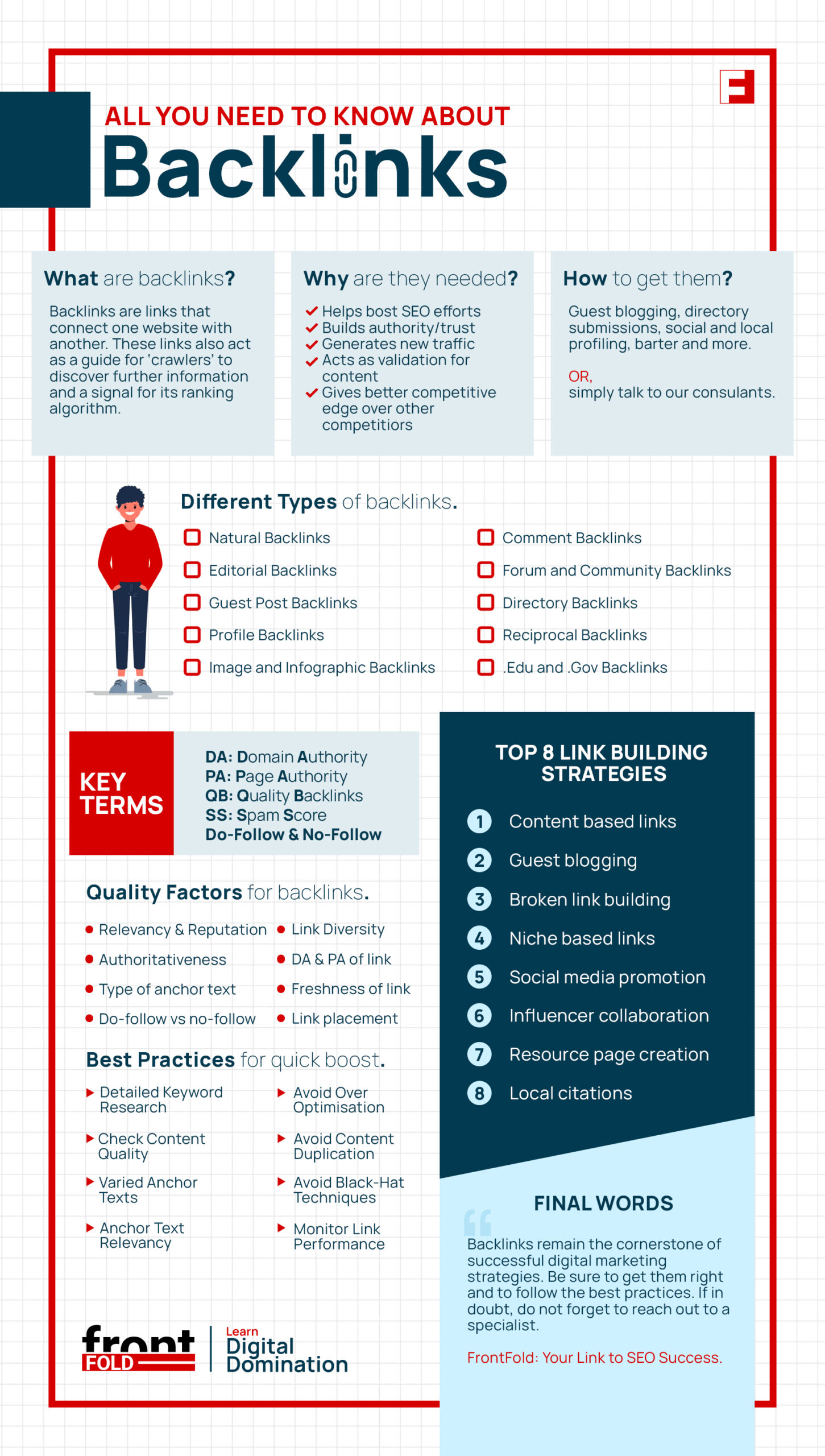 What Are Backlinks?
Backlinks, also known as inbound links or simply "links," are foundational components of search engine optimization (SEO). They play a pivotal role in determining a website's authority, credibility, and ranking on search engine results pages (SERPs).
In essence, a backlink is a hyperlink that connects one webpage to another, but their significance goes beyond the surface. When one website links to another, it essentially vouches for the linked site's content and quality. This endorsement sends a signal to search engines, indicating that the linked page is valuable and relevant to users' queries.
Backlinks act as pathways that guide search engine crawlers through the vast expanse of the internet. They enable these crawlers to discover new web pages and understand their relationships to other pages. Consequently, backlinks significantly contribute to a website's visibility in search results.
Quality and quantity both matter when it comes to backlinks. Search engines, like Google, assess not only how many backlinks a site has but also the authority and relevance of the linking sources. In other words, a backlink from a reputable and related website holds more weight than one from an obscure or unrelated source.
In summary, backlinks are digital references that connect web content, enhance a website's reputation, and influence its position in search rankings. Understanding their importance and implementing effective strategies to earn them is fundamental to successful SEO
Types of Backlinks
Backlinks come in various forms, each wielding its own influence on a website's SEO performance. Understanding these types can empower you to craft an effective link-building strategy. Here, we explore some common backlink varieties:
Natural Backlinks: These gems are earned organically when other websites find your content valuable and link to it willingly. Natural backlinks are like gold in the eyes of search engines.
Editorial Backlinks: When authoritative websites or publications mention your content within their articles or editorials, you gain editorial backlinks. These are among the mightiest.
Guest Post Backlinks: Writing content for another website in your niche and including a link back to your site earns you guest post backlinks. They pack a punch in both SEO and establishing authority.
Profile Backlinks: Many social media platforms, forums, and online communities allow you to create profiles with links to your website. These are known as profile backlinks.
Image and Infographic Backlinks: If your images or infographics are used on other websites with attribution, they become sources of image backlinks.
Comment Backlinks: Leaving thoughtful comments on blogs or forums with links to your website can result in comment backlinks. However, ensure they're genuine and relevant to steer clear of spam territory.
Forum and Community Backlinks: Actively participating in online forums and communities can earn you backlinks when you share valuable insights and resources.
Directory Backlinks: Submitting your website to online directories or business listings can result in directory backlinks. Be cautious here, as low-quality directories may harm your SEO.
Reciprocal Backlinks: When two websites agree to link to each other, it's known as reciprocal linking. While once popular, search engines now scrutinize them closely.
Educational and Government Backlinks: Links from educational institutions or government websites carry high authority and significant SEO value.
Understanding these backlink types empowers you to diversify your link-building strategy and target the most relevant sources for your niche. However, remember that not all backlinks are created equal; quality often trumps quantity. Prioritize natural and editorial backlinks, as they genuinely reflect your content's authority and recognition.
In essence, mastering these backlink types and acquiring them ethically and strategically can substantially elevate your website's SEO performance. Keep in mind that building a robust backlink profile is an ongoing journey, requiring consistent effort and vigilance. By doing so, you'll fortify your website in the long term and maintain your search engine rankings effectively.
The Importance of Backlinks
Better Search Rankings: Think of backlinks as endorsements from other websites. When your site earns these endorsements, especially from high-quality sources, search engines like Google take notice. They reward you with better search rankings, meaning more people can find your site.
Boosted Authority: Backlinks from well-respected websites act like a vote of confidence. They tell search engines that your content is trustworthy and valuable. This boosts your website's authority and credibility in your niche.
Speedier Indexing: Backlinks can fast-track the process of getting your content noticed. Search engine bots follow these links to discover and index your content more quickly, making it available to users sooner.
Real Traffic: Beyond impressing search engines, backlinks also send real people to your website. Visitors from other sites can click on these links, potentially becoming your customers.
Validation of Content: Quality backlinks serve as endorsements from experts or trusted sources. This validates the quality and expertise of your content, enhancing your reputation.
Competitive Advantage: In competitive industries, a strong backlink profile sets you apart from the competition. It establishes your site as a valuable resource that people can trust.
Recognizing the significance of backlinks and building a diverse collection of these connections is essential for any website striving for success online. However, it's equally important to acquire backlinks through ethical methods to fully enjoy the SEO benefits they offer.
Quality vs. Quantity
When considering backlinks, the age-old debate arises: quantity or quality? Undoubtedly, quality takes precedence.
Quality Prevails: Superior backlinks from trusted, relevant sources hold more weight than numerous lower-quality links. A single reputable backlink can surpass many less valuable ones.
Avoiding Penalties: Search engines penalize sites with spammy, low-quality backlinks, harming rankings. Quantity pursuit risks penalties.
Trust and Authority: Quality backlinks enhance site credibility and trust in the industry. They signify confidence in your content to search engines.
Traffic and Conversions: Quality backlinks boost SEO and send engaged organic traffic, improving conversion prospects.
Sustainable Growth: Prioritizing quality ensures steady, long-term search ranking growth. Gradually accumulating high-quality backlinks is the key to lasting success.
In summary, prioritize quality over quantity in your backlink strategy. Target trusted, relevant sites that resonate with your content. Cultivate relationships and outreach for valuable links. While quantity may provide a temporary boost, the quality of backlinks propels long-term rankings and establishes your site as a trusted, authoritative source.
In SEO, quality reigns, ensuring lasting success and resilience against algorithm shifts and penalties. Prioritize quality for enduring online prominence.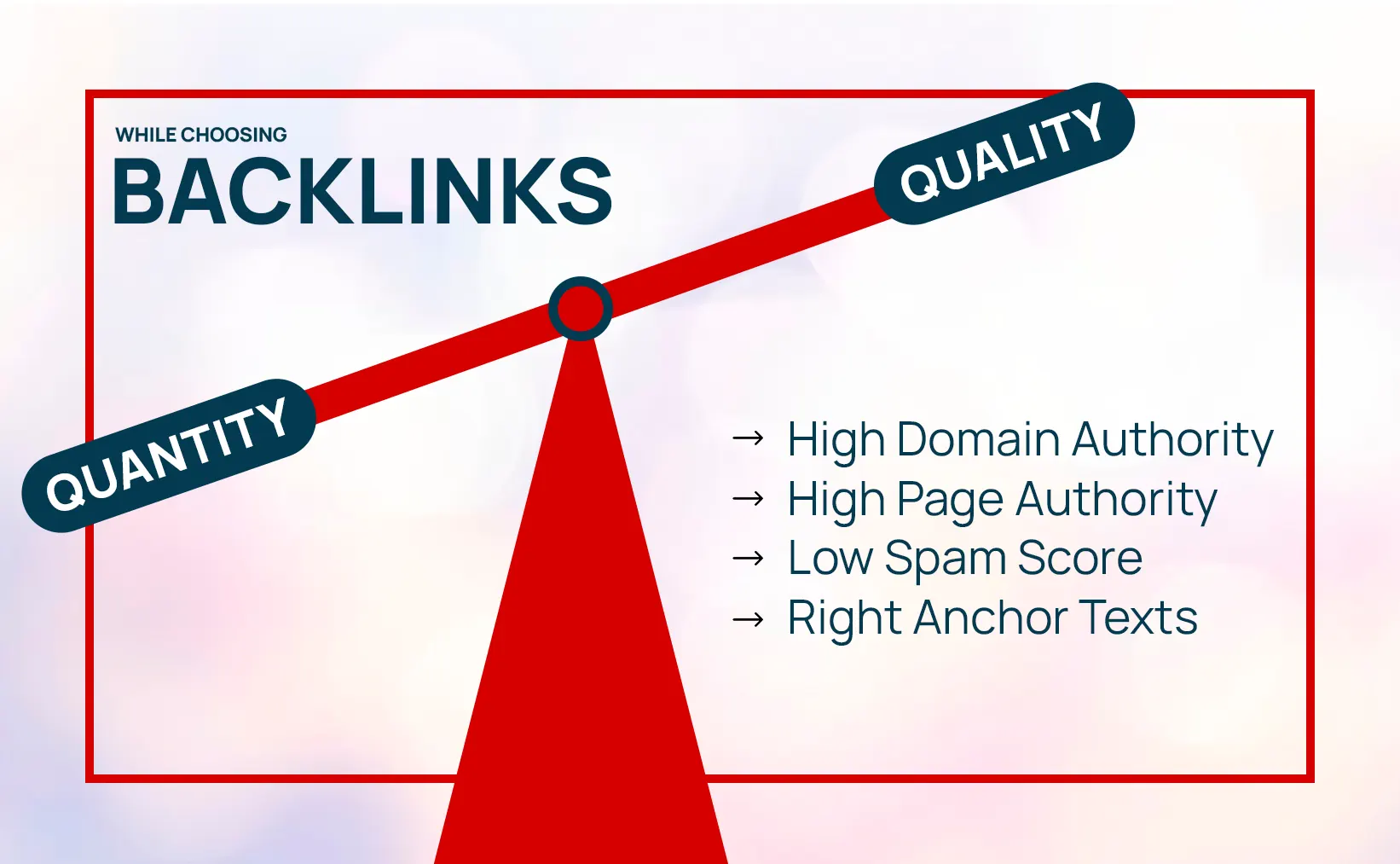 How Search Engines View Backlinks?
Search engines, particularly Google, view backlinks as a critical factor when assessing a website's authority, credibility, and relevance. To put it simply, they consider backlinks as votes of confidence coming from other websites. However, it's important to know that not all backlinks are created equal in the eyes of search engines.
Search engines have a checklist they use to evaluate backlinks:
Quality: Backlinks from respected, trustworthy websites in your niche carry more weight and give your rankings a boost.
Relevance: When your website gets backlinks from sites that are related to your industry or content, it's seen as a big plus. This tells search engines that your content is contextually accurate.
Anchor Text: The text used in the link (called anchor text) should make sense and relate to the content it's linking to. This helps search engines understand the connection.
Link Diversity: Having a mix of backlinks from different sources is a good thing. It shows that you're building links naturally.
Authority of Linking Page: Backlinks from pages with high domain authority are seen as more valuable than those from low-quality sites.
Freshness: How recent a backlink is can affect its importance. Fresh, up-to-date links are often given more weight.
Context: The context around the link, like the content it's part of, matters too. It adds to the link's significance.
Knowing how search engines look at backlinks can help you create a strategy to get the right kinds of backlinks. By getting high-quality, relevant backlinks from trusted sources, you'll boost your website's reputation and show up better in search results.
Link Building Strategies
When it comes to SEO, link building stands out as a crucial strategy. Implementing effective approaches can significantly impact how your website performs in search engine rankings. Let's explore some strategies that work wonders:
Quality Content: Craft content that's not just informative but also captivating. When you create valuable material, other websites are naturally inclined to link back to it.
Guest Blogging: Sharing your expertise by contributing guest posts to respected websites within your niche not only establishes your authority but also allows you to include relevant links to your own site.
Fixing Broken Links: Identifying broken links on reputable websites and proposing to replace them with links to your relevant content can benefit both parties—site owners eliminate broken links, and you gain valuable backlinks.
Skyscraper Technique: Find content in your industry that's already successful in terms of links and traffic. Then, create even better and more comprehensive content and reach out to the websites linking to the original, suggesting they link to yours instead.
Social Media Promotion: Sharing your content on social media platforms can encourage user engagement and potentially result in backlinks from individuals who find your content valuable.
Collaborating with Influencers: Partnering with influencers in your field can expand your reach and net you backlinks. Influencers often have a dedicated following that trusts their recommendations.
Resource Pages: Many websites maintain resource pages featuring useful links and tools. Approach these websites and propose your content as a valuable addition.
Local Citations: If your business operates locally, ensure that your information is consistent and up-to-date across local directories and websites. This can positively impact local SEO and generate backlinks.
Remember, building backlinks is a long-term strategy, and quality should always take precedence over quantity. Earning high-authority, relevant backlinks will ultimately bolster your website's credibility and improve its performance in search engine rankings.
Natural vs. Unnatural Backlinks
Balancing Act: The Art of Backlinks
Backlinks, they're like the secret sauce of SEO, but here's the deal: not all backlinks are born equal. Knowing the difference between natural and unnatural backlinks is your ticket to maintaining an online presence that's both awesome and reputable.
Natural Backlinks: Your SEO Bestie
Natural backlinks are the rock stars of the SEO world. These links are the real deal – they're earned fair and square, without any sneaky tricks. Usually, they pop up on authoritative websites, blogs, or social media because people genuinely love your content. Search engines (we're looking at you, Google) adore these gems because they vouch for your website's awesomeness.
Unnatural Backlinks: The SEO Rebels
Now, unnatural backlinks are the rebels of the backlink world. These are the links you get through, well, let's say "questionable" practices. Think buying links, hanging out in link farms, or using automated link-building stuff. Search engines don't like these bad boys – they can actually mess up your SEO game and give your reputation a not-so-friendly kick.
Finding the Sweet Spot
In this backlink universe, it's not about quantity; it's all about quality. Natural backlinks are pure gold, but don't put all your eggs in that basket. If you're in a competitive field, you'll want to mix things up a bit. Too many unnatural links, though, and you might get on Google's naughty list.
Here's the secret sauce: build a diverse, high-quality backlink mix. Go for those organic links, but don't be shy about reaching out too. Write guest posts for the cool websites, team up with influencers, and create content that people can't help but share. That's the way to nail the perfect balance.
Just remember, the best backlinks are the ones that make your website better, thrill your audience, and boost your online street cred. When you aim for quality and relevance, your backlink game becomes a powerful tool in your SEO strategy.
Anchor Text Optimization
Anchor text is the clickable text within a hyperlink, and it plays a vital role in the world of SEO and backlinks. It serves as a brief descriptor of the linked page's content, providing both users and search engines with insights into what to expect when they click. Anchor text optimization involves using relevant and descriptive anchor text to enhance the context and value of your backlinks.
Why It Matters?
Relevance: Optimized anchor text ensures that the link aligns with the content topic. This relevance enhances the user experience and signals to search engines that your content is valuable and contextually accurate.
Keyword Integration: Strategic use of target keywords in anchor text can boost your SEO efforts. However, overdoing it (known as "keyword stuffing") can trigger penalties, so balance is crucial.
Diverse Anchors: Using various types of anchor text—such as exact-match, partial-match, branded, and generic—creates a natural linking profile, reducing the risk of being seen as spammy.
Best Practices:
Relevance First: Always prioritize relevance over keyword placement. Choose anchor text that makes sense in the context of the surrounding content and the linked page.
Keyword Research: Conduct thorough keyword research to identify suitable terms that align with your content and are likely to perform well in search.
Variety Matters: Mix up your anchor text. Using the same keyword repeatedly can appear unnatural. Use branded anchors (your brand name), partial matches, synonyms, and even generic phrases.
Avoid Over-Optimization: Don't overuse exact-match keywords in your anchor text. This can trigger search engine penalties. Natural language and synonyms are your friends.
Content Quality: Ensure the linked content is top-notch. Even the best anchor text won't help if the linked page doesn't deliver on the user's expectations.
In summary, anchor text optimization is a crucial aspect of your backlink strategy. It improves the relevance and context of your links, benefiting both users and search engines. By following best practices and maintaining a natural linking profile, you can harness the power of anchor text to enhance your SEO efforts.
Backlink Profile Analysis
Analyzing your backlink profile is essential for understanding your website's SEO health and making informed decisions. Here are some best practices for effective backlink profile analysis:
Diversity Matters: A healthy backlink profile includes a variety of link types—do-follow, no-follow, text, image, and more. Diversity signals legitimacy to search engines.
Check for Toxic Backlinks: Identify and disavow toxic backlinks—links from spammy, low-quality websites. They can harm your site's ranking.
Quality Over Quantity: Prioritize high-quality, authoritative links over a large number of low-quality links. Quality backlinks have a more positive impact.
Monitor Anchor Text: Ensure a natural anchor text distribution. Excessive use of exact-match keywords can appear manipulative.
Stay Current: Regularly update your analysis. New backlinks and changes in the SEO landscape can affect your profile.
Metrics to Consider During Profile Analysis
When assessing your backlink profile, consider these key metrics:
Domain Authority (DA): Evaluate the overall authority of websites linking to you.
Page Authority (PA): Assess the authority of specific pages linking to your content.
Backlink Source: Determine where your backlinks originate. Are they from reputable sources?
Link Diversity: Ensure a mix of links from various domains and IPs.
Link Relevance: Links from relevant websites are more valuable.
Link Velocity: Monitor the rate at which you acquire new backlinks. Sudden spikes can raise suspicion.
Tools For Backlink Analysis
Several tools and websites can help you analyze your backlinks effectively. 
Analyzing your backlink profile regularly using these tools and practices will guide your link-building strategies and boost your website's SEO performance. Remember, a strong backlink profile is a cornerstone of successful SEO efforts.
Link Building Outreach
Link building outreach is a fundamental element of any successful SEO strategy. It involves reaching out to other websites or online entities to secure backlinks to your site. These backlinks serve as votes of confidence in your content, boosting your site's authority and search engine rankings.
Effective link building outreach follows a systematic process:
Prospecting: Start by identifying potential link-building opportunities. Look for websites in your niche, guest posting opportunities, and authoritative sites relevant to your content.
Personalization: When reaching out to potential link partners, personalized outreach emails tend to yield better results. Address the recipient by name and explain why a link to your content would benefit them and their audience.
Crafting Compelling Content: Ensure that your website features high-quality, valuable content that others will want to link to naturally.
Outreach: Send your outreach emails, keeping them concise and to the point. Clearly state your request for a backlink and offer a compelling reason for them to link to your content.
Follow-up: If you don't receive a response, follow up politely. Sometimes, a simple reminder can prompt action.
Building Relationships: Cultivate relationships with website owners and bloggers in your niche. Long-term partnerships can lead to more backlink opportunities.
Track and Analyze: Use tools like email tracking to monitor your outreach efforts. Analyze which strategies are most effective and adapt your approach accordingly.
Remember that successful link building outreach requires patience and persistence. Not every outreach attempt will result in a backlink, but consistent efforts can yield significant results, enhancing your website's online visibility and authority.
Guest Posting for Backlinks
Guest posting, also known as guest blogging, is a widely recognized and effective strategy for acquiring backlinks while simultaneously establishing your authority in your industry. This approach involves writing content for another website or blog in exchange for a backlink to your own site. When done correctly, guest posting can offer numerous benefits.
Building Authority: Guest posting allows you to showcase your expertise to a broader audience. By providing valuable insights, actionable tips, or in-depth analysis, you position yourself as an authority figure in your niche. Readers who find your content informative and valuable are more likely to follow your link back to your website.
Expanding Reach: Publishing your content on reputable websites exposes your brand to a wider audience. It's an opportunity to tap into the readership of established platforms and reach potential customers or clients who may not have encountered your site otherwise.
Quality Backlinks: High-quality backlinks are a primary goal of guest posting. When your content is featured on authoritative sites, you receive credible, contextually relevant backlinks. These backlinks can significantly boost your site's SEO rankings.
Networking and Relationships: Guest posting can also be a gateway to building relationships within your industry. Collaborating with blog owners and webmasters can lead to future opportunities, such as co-authoring projects or joint ventures.
Effective Guest Posting Strategies: To maximize the benefits of guest posting, focus on creating high-quality, unique content that offers real value to the audience. Prioritize websites with good domain authority and align with your niche. Additionally, ensure your guest post contains a relevant, natural backlink to your website.
By implementing a well-thought-out guest posting strategy, you can elevate your online presence, enhance your authority, and secure valuable backlinks that contribute to your site's SEO success.
Local SEO Backlinks
Local SEO is a game-changer for businesses looking to enhance their online presence within a specific geographic area. Backlinks play a crucial role in this strategy, helping businesses establish authority and relevance in their local market.
Local Business Directories: One of the most effective ways to acquire local backlinks is by listing your business in local directories. Websites like Yelp, Yellow Pages, and Google My Business provide valuable backlinks that signal your location and services to search engines.
Local News and Blogs: Engaging with local news outlets and blogs can lead to high-quality backlinks. Offering to contribute guest posts or being featured in articles can provide not only links but also valuable exposure within your community.
Local Partnerships: Collaborating with local businesses and organizations can yield fruitful backlink opportunities. These partnerships often involve reciprocal links on each other's websites or mentions in blogs and news releases.
Community Engagement: Actively participating in community events, sponsorships, or charities can lead to backlinks from event listings, sponsor pages, and news coverage.
User-Generated Content: Encourage customers to create content related to your business, such as reviews, testimonials, or social media posts. These user-generated materials can include backlinks to your website.
Geo-Targeted Content: Creating location-specific content, such as city guides, event calendars, or neighborhood spotlights, can attract local backlinks from organizations, bloggers, and individuals interested in your area.
Incorporating local backlinks into your SEO strategy is essential for businesses with a geographic focus. These backlinks not only boost your search engine rankings but also connect you with your local audience, driving real-world results and business growth.
Competitor Backlink Analysis
Staying ahead in the digital landscape often requires a deep understanding of your competitors' strategies. Competitor backlink analysis is a valuable tactic that can provide insights and opportunities to improve your own website's authority and ranking.
Identifying Competitors: Begin by identifying your main competitors in your niche or industry. These are the websites consistently vying for the same keywords and audience.
Backlink Discovery: Use online tools and services to analyze your competitors' backlink profiles. These tools reveal the sources of their backlinks, helping you understand their link-building strategies.
Quality Assessment: Evaluate the quality of your competitors' backlinks. Focus on links from authoritative and reputable websites, as these are the most valuable for SEO.
Link Gap Analysis: Identify the gaps in your own backlink profile compared to your competitors. Are there high-quality websites linking to them that aren't linking to you? These gaps represent opportunities for improvement.
Emulate and Innovate: Replicate successful backlink strategies used by your competitors, but also look for ways to differentiate yourself. Seek out unique linking opportunities that they may have overlooked.
Regular Monitoring: Competitor backlink analysis is an ongoing process. Keep a watchful eye on your competitors' backlink profiles, and adjust your strategy accordingly.
By conducting competitor backlink analysis, you can uncover valuable insights that inform your own link-building efforts. It's a strategic approach that can lead to improved search engine rankings, increased organic traffic, and a stronger online presence.
Earning Edu and Gov Backlinks
In the realm of SEO, .edu and .gov backlinks are considered some of the most coveted and authoritative links you can acquire. These links come from educational and government institutions, and they carry significant weight in search engine algorithms due to their trusted nature.
Identifying Opportunities: Begin by searching for educational and government websites related to your industry or niche. Look for resource pages, forums, or blogs where you can contribute valuable content.
Create Exceptional Content: To earn these prestigious backlinks, you'll need to create high-quality, informative content that adds value to the educational or government website's audience. This could be in the form of research studies, guides, or articles.
Outreach and Collaboration: Reach out to the webmasters or administrators of these sites with a well-crafted pitch. Highlight the relevance and value of your content, explaining how it can benefit their readers or students.
Guest Posting: Some educational and government websites accept guest posts. If they do, consider submitting an article that aligns with their content guidelines and audience interests.
Resource Pages: Many .edu websites have resource pages where they link to external sources of information. If your content fits the bill, request to be included.
Engage in Forums and Discussions: Participate in relevant educational or government forums and discussions. Provide valuable insights and include a link to your content when it's relevant to the conversation.
Stay Compliant and Ethical: Always follow the rules and guidelines set by these institutions when seeking backlinks. Ethical practices are essential to maintain the integrity of your website.
Monitor and Maintain: Once you've earned these backlinks, monitor their performance and ensure that the linked content remains relevant and up to date.
Earning .edu and .gov backlinks is a challenging but rewarding endeavor. These links can significantly boost your website's authority and SEO rankings, making the effort well worth it for the long-term success of your online presence.
Backlinks and Content Strategy
Backlinks and content strategy are like two sides of the same coin in the realm of SEO. They have a symbiotic relationship, with each reinforcing the other's effectiveness. Here's how they work together:
Quality Content Attracts Backlinks: Creating high-quality, informative, and engaging content naturally attracts backlinks. When your content is valuable, other websites, blogs, and influencers in your niche are more likely to link to it as a reference or resource.
Targeted Anchor Text: Your content strategy should include the strategic use of anchor text. Anchor text is the clickable text in a hyperlink. By optimizing anchor text in your content, you guide readers and search engines about the topic or keywords your linked page is relevant to.
Link-Worthy Assets: Craft content that serves as a link-worthy asset. This could be in the form of comprehensive guides, research papers, infographics, or interactive tools. Such assets tend to attract more backlinks because they offer unique value.
Outreach and Promotion: Once you've created valuable content, proactively promote it. Share it on social media, reach out to industry influencers, and engage in email outreach to inform others about your content. The more visibility your content gets, the higher the chances of it earning backlinks.
Content Updates: Regularly update and refresh your existing content. As you do so, reach out to websites that previously linked to your outdated content, informing them of the updates. This can help you regain lost links and maintain a strong backlink profile.
Guest Posting: Incorporate guest posting into your content strategy. Guest posting on reputable websites in your niche not only helps establish your authority but also provides opportunities for backlinks to your own content.
Diversified Content Types: Diversify your content types to appeal to a broader audience. Different people prefer consuming content in various formats, such as articles, videos, podcasts, and infographics. By catering to these preferences, you increase the chances of earning diverse backlinks.
Analyze Backlink Data: Regularly monitor your backlink profile using SEO tools. Identify which content pieces are attracting the most backlinks and why. This data can inform your future content strategy.
In conclusion, a well-executed content strategy complements your backlink-building efforts, and vice versa. They work together to enhance your website's authority, visibility, and overall SEO performance. Balancing these aspects is key to achieving sustainable success in the competitive digital landscape.
The NoFollow Attribute
The "nofollow" attribute is a fundamental concept in the world of backlinks and SEO. It is an HTML attribute used to instruct search engines not to follow a particular link. Here's what you need to know about the "nofollow" attribute:
Purpose of Nofollow: The primary purpose of the "nofollow" attribute is to indicate to search engines that the linked page should not receive any SEO value or "link juice" from the linking page. In essence, it tells search engines not to consider the link when determining the ranking or authority of the linked page.
Use Cases:
User-Generated Content: Websites often use "nofollow" for links within user-generated content like comments and forum posts. This helps prevent spammy links from influencing search rankings.

Paid Links: If you are compensated for placing a link on your website, it should have a "nofollow" attribute to comply with search engine guidelines. This includes sponsored posts, affiliate marketing links, and paid advertisements.

Untrusted Content: When linking to external websites or content that you don't fully trust, it's wise to use "nofollow" to avoid endorsing potentially harmful or unreliable sources.

Non-Editorial Links: Links within widgets, footers, or other non-editorial sections of a webpage are often marked as "nofollow" to indicate that they aren't editorially chosen endorsements.
SEO Impact: While "nofollow" links don't pass SEO value in the traditional sense, they can still drive traffic to the linked page if users click on them. Additionally, they can indirectly benefit SEO by making your link profile appear more natural and diverse.
Combating Spam: Using "nofollow" in user-generated content helps prevent comment spam and discourages malicious backlink schemes.
Balanced Link Profile: A well-rounded backlink profile includes a mix of "nofollow" and regular (dofollow) links. This diversity signals to search engines that your website's links are natural and not manipulated.
Reliability: Using "nofollow" appropriately demonstrates your website's commitment to ethical linking practices, which can enhance your reputation.
In summary, the "nofollow" attribute is a valuable tool in maintaining the integrity of your website's backlink profile, complying with search engine guidelines, and preventing spam. While it doesn't directly pass SEO value, it plays a crucial role in SEO strategy, especially in scenarios where you want to exercise caution or when dealing with untrusted content and user-generated contributions. Understanding when and how to use "nofollow" is essential for effective link management.
Backlink Quality Factors
Backlinks are a cornerstone of SEO, but not all backlinks are created equal. Understanding the quality factors that make a backlink valuable is essential for effective link building and SEO success. Here are the key factors that determine backlink quality:
Source Authority: Backlinks from authoritative and reputable websites carry more weight. Links from well-established, high-traffic sites are more valuable than those from low-quality or spammy sites.
Relevance: Relevance is crucial. Backlinks from websites and content related to your niche or industry are more valuable because they indicate topical authority. Search engines value contextually relevant links.
Anchor Text: The anchor text—the clickable text in a hyperlink—provides context about the linked page's content. Descriptive and keyword-rich anchor text can boost the SEO value of a backlink.
Dofollow vs. Nofollow: Dofollow links pass link equity, while nofollow links do not. While nofollow links don't directly impact SEO, they can still drive traffic and contribute to a diverse link profile.
Link Placement: Links placed within the main content of a page (in-content or editorial links) are generally more valuable than links in sidebars, footers, or author bios.
Link Diversity: A diverse link profile that includes links from various sources, such as blogs, news sites, social media, and forums, is seen favorably by search engines.
Natural Linking Patterns: Google favors naturally acquired backlinks over those obtained through manipulative tactics. Unnatural or paid links can lead to penalties.
Editorial vs. Self-Created: Editorial backlinks are voluntarily given by other websites, while self-created links (e.g., forum signatures) are less valuable because they lack editorial approval.
Traffic and Engagement: Links from websites with substantial traffic and user engagement are more likely to drive referral traffic to your site, in addition to SEO benefits.
Geographic Relevance: For local SEO, backlinks from sites in the same geographic area or industry hold particular value.
Link Age: Older backlinks tend to carry more weight than newly acquired ones, showing long-term trust.
Social Signals: While social media links are typically nofollow, they can indirectly influence SEO by driving social engagement and traffic.
Content Quality: High-quality, informative, and engaging content is more likely to attract backlinks. Content that provides unique value is more shareable and link-worthy.
Linking Context: The context surrounding the link matters. Is it a natural part of the content, or does it look forced or manipulative?
Penalties and Disavow: Avoid links from websites with penalties or spammy backlink profiles. Use Google's Disavow Tool to disassociate from harmful links.
In conclusion, backlink quality matters more than quantity. A few high-quality, relevant, and authoritative backlinks can have a more significant impact on your SEO than numerous low-quality ones. A holistic approach to link building that considers these quality factors will lead to improved search engine rankings and a stronger online presence.
White Hat vs. Black Hat SEO
Search engine optimization (SEO) encompasses various techniques and approaches, but it can broadly be classified into two categories: White Hat SEO and Black Hat SEO. These categories differ significantly in their methodologies and ethical considerations. Here's a closer look at the distinctions:
White Hat SEO:
Ethical Practices: White Hat SEO involves ethical and legitimate strategies to improve a website's search engine rankings.
Content Quality: It prioritizes creating high-quality, valuable content that serves the audience's needs.
Keyword Optimization: White Hat SEO uses keyword research and optimization to enhance content relevance.
Link Building: It focuses on acquiring high-quality backlinks through natural, non-manipulative methods.
User Experience: White Hat SEO emphasizes a positive user experience, including mobile-friendliness and fast page loading.
Transparency: SEO practitioners using White Hat techniques are transparent about their methods and adhere to search engine guidelines, like Google's Webmaster Guidelines.
Black Hat SEO:
Unethical Practices: Black Hat SEO employs unethical and manipulative tactics to achieve quick rankings, often in violation of search engine guidelines.
Content Quality: It may involve content spinning, duplication, or keyword stuffing to manipulate search results.
Keyword Manipulation: Black Hat SEO can overuse keywords unnaturally, leading to poor content quality.
Link Schemes: It may use link schemes like link farms, private blog networks (PBNs), or paid links to artificially inflate backlink profiles.
User Experience: Black Hat methods often disregard user experience, potentially leading to poor website usability.
Risk of Penalties: Websites engaging in Black Hat SEO are at risk of search engine penalties, such as ranking drops or removal from search results.
Gray Hat SEO:
Gray Hat SEO falls in between White Hat and Black Hat SEO, utilizing tactics that may not strictly adhere to guidelines but aren't as overtly manipulative as Black Hat techniques. Examples include publishing sponsored content with followed links or guest posting on low-quality websites.
It's important to note that search engines, especially Google, continually refine their algorithms to detect and penalize Black Hat practices. Choosing White Hat SEO not only aligns with ethical standards but also provides long-term sustainability and credibility in the digital landscape. While Black Hat techniques may yield short-term gains, they carry substantial risks and can harm a website's reputation and rankings in the long run. Therefore, it's advisable to invest in ethical, White Hat SEO practices for lasting online success.
Measuring Backlink Success
Evaluating the success of your backlink strategy is crucial to understanding its impact on your website's SEO and overall online visibility. Here are the key metrics and strategies for measuring backlink success:
Backlink Quantity:
Total Backlinks: Monitor the total number of backlinks pointing to your site. An increase over time is generally a positive sign.
New Backlinks: Track the acquisition of new backlinks to assess the effectiveness of your outreach efforts.
Backlink Quality:
Domain Authority (DA): Evaluate the authority of websites linking to you. Backlinks from high DA sites typically have more significant SEO impact.
Page Authority (PA): Assess the authority of the specific pages linking to your content.
Relevancy: Consider how relevant the linking site's content is to yours. Relevant backlinks are more valuable.
Link Diversity:
Anchor Text Variation: Ensure a diverse range of anchor text is used in backlinks to avoid over-optimization.
Source Diversity: Aim for backlinks from various domains rather than relying heavily on one source.
Traffic and Conversions:
Referral Traffic: Analyze the amount of traffic driven to your site through backlinks.
Conversion Rate: Measure the percentage of visitors from backlinks who complete desired actions, such as making a purchase or signing up.
Ranking Improvements:
Keyword Rankings: Check if your target keywords are ranking higher in search results due to your backlink efforts.
SERP Visibility: Assess your overall visibility in search engine results pages (SERPs) for relevant keywords.
User Engagement:
Bounce Rate: Monitor the bounce rate of visitors referred by backlinks. A lower bounce rate indicates engaged users.
Time on Page: Measure how long visitors spend on your site after arriving via backlinks.
Penalty Check:
Regularly audit your backlink profile to identify and address any toxic or spammy links that could lead to search engine penalties.
Competitor Analysis:
Compare your backlink profile to competitors to identify gaps and opportunities.
Tools and Analytics:
Utilize SEO tools and analytics platforms, such as Google Analytics, Google Search Console, Ahrefs, Moz, or SEMrush, to track and analyze backlink data.
ROI Calculation:
Calculate the return on investment (ROI) from your backlink strategy by considering factors like increased organic traffic, conversions, and revenue generated.
Content Performance:
Assess the performance of the content linked to. Determine which pieces of content attracted the most backlinks and evaluate their impact.
Conversion Attribution:
Use attribution modeling to understand how backlinks contribute to conversions throughout the customer journey.
User Feedback:
Collect feedback from website users and customers to gauge their perception of your content and the user experience facilitated by backlinks.
Adherence to Best Practices:
Ensure that your backlink strategy aligns with industry best practices and search engine guidelines to maintain long-term success.
Measuring backlink success is an ongoing process that requires consistent monitoring, analysis, and adjustment of your SEO strategy. By considering these metrics and strategies, you can gain valuable insights into the effectiveness of your backlink building efforts and make informed decisions to enhance your website's SEO performance.
Future Trends in Backlinking
The landscape of backlinking is continually evolving, driven by changes in search engine algorithms, user behaviors, and technology advancements. Here are some future trends in backlinking that every digital marketer and SEO professional should be aware of:
Semantic SEO:

Search engines are becoming increasingly sophisticated in understanding the context and intent behind search queries. Future backlink strategies will focus on creating content that aligns with semantic search to better match user intent.

User Experience Signals:

User experience (UX) factors like page load speed, mobile-friendliness, and overall site usability will play a more significant role in SEO. Backlinks from websites that offer superior UX may carry more weight.

Quality over Quantity:

Search engines will continue to prioritize the quality and relevance of backlinks over sheer quantity. Building relationships with high-authority websites will be more critical than amassing numerous low-quality links.

Content-Led Link Building:

Content will remain a central component of link-building strategies. Creating comprehensive, valuable, and shareable content will attract organic backlinks from authoritative sources.

Voice Search Optimization:

As voice search becomes more prevalent, optimizing content for voice queries and earning backlinks from voice search-friendly websites will be crucial for SEO success.

Video Backlinks:

Video content is on the rise, and securing backlinks from authoritative video platforms like YouTube will become an essential part of backlink strategies.

E-A-T and YMYL:

Expertise, Authoritativeness, and Trustworthiness (E-A-T) will remain essential ranking factors, especially for Your Money or Your Life (YMYL) niches like health and finance. Building backlinks from trusted sources will be paramount.

Linkless Mentions:

Search engines are increasingly considering brand mentions even without traditional backlinks. Maintaining a strong online presence and reputation will be essential.

User-Generated Content (UGC):

Encouraging user-generated content, such as reviews, testimonials, and social media mentions, can lead to natural backlinks and bolster trustworthiness.

AI and Automation:

AI-driven tools will assist in identifying link-building opportunities, analyzing competitor backlink profiles, and optimizing anchor text strategies.

Link Reclamation:

Focusing on reclaiming broken or lost backlinks will continue to be an effective strategy, as it requires less effort than acquiring entirely new links.

Niche Communities and Forums:

Building relationships within niche-specific online communities and forums will remain a valuable source of relevant backlinks.

Influencer Collaboration:

 Partnering with industry influencers and thought leaders for content creation and promotion can lead to authoritative backlinks and increased brand visibility.

Local SEO Emphasis:

For businesses targeting local audiences, local SEO and backlinks from local directories and websites will be vital.

Blockchain and Decentralized Web:

Emerging technologies like blockchain may influence the verification and transparency of backlinks, reducing fraudulent or low-quality links.
As the SEO landscape continues to evolve, adapting to these trends will be critical for maintaining and improving your website's search engine rankings. Staying informed about industry developments and adjusting your backlinking strategies accordingly will help you stay ahead in the competitive world of SEO.
Conclusion
In the ever-evolving realm of SEO, backlinks remain a cornerstone of successful digital marketing strategies. They are not just links; they are pathways to higher search engine rankings, increased organic traffic, and enhanced online visibility. At FrontFold, we understand the critical role that backlinks play in today's digital landscape, and we are here to empower your business with an arsenal of link-building solutions.
Our commitment to quality over quantity ensures that every backlink we secure is from a reputable, authoritative source, aligning seamlessly with your brand's goals and values. Our team of skilled professionals excels in crafting content that not only earns backlinks but also engages your target audience and enhances your brand's credibility.
We specialize in tailored backlinking strategies that suit your unique industry, niche, and business objectives. Whether you're looking to improve local SEO, expand your online presence, or dominate the global market, FrontFold has the expertise to drive results. Our competitive pricing models ensure that your investment in backlinking delivers maximum ROI, making us the go-to partner for businesses of all sizes.
But our commitment doesn't end with backlinks alone. We recognize the synergy between backlinking and on-page SEO, and we seamlessly integrate the two to optimize your website's performance. From creating high-quality content that naturally attracts backlinks to optimizing your website's technical elements, FrontFold is your holistic SEO solution.
Partner with FrontFold today, and let us navigate the intricate web of backlinking for you. Elevate your SEO game, enhance your digital presence, and reach new heights of online success with a partner you can trust—FrontFold, where backlinks meet expertise.
FrontFold: Your Link to SEO Success.
Get a personal consultation
.
A lot of clarity can be gained if we just talk to each other for 5mins.